GEOLOCATE A MOBILE PHONE
Enter the number of the phone you want to locate:
100% anonymous
Any type of phone
All around the world

Compatible with any type of phone
Track any type of phone, anywhere in the world

Works with all mobile networks
Geolocation works with all cellphone networks

Geolocation 100% anonymous
We will not share your personal information
How does it work ?
. Geolocation request :

Fill in the phone number you want to geolocate and subscribe to our promotional offer to access your account.

. Geolocation:

The recipient receives an SMS with an anonymous tracking link which makes it possible to precisely find its geolocation.

. Geolocation display:

You receive the exact geolocation of the phone, displayed on a map and can follow its movements.
Our subscription offer
0,50€
0,50€ / 48H trial offer
34€
/ per month for unlimited access
At the end of the 48H and without cancellation, the offer will be automatically renewed in a subscription without commitment, at the price of 34€ per month.
150 geolocation requests per month
Exact GPS location displayed on a map
Works with any types of phones
Work with all phone networks
Geolocate a phone anywhere in the world
Tracking information update in real time
Lost and stolen phone technical assistance
Add users to your subscription
Share your photos with your family
Create your contact list
Send SMS to your loved ones
Share your location with your contacts
Cancelation at any time without justification
No minimum commitment
Technical assistance available 6/7 days
Features
Enjoy these features with your subscription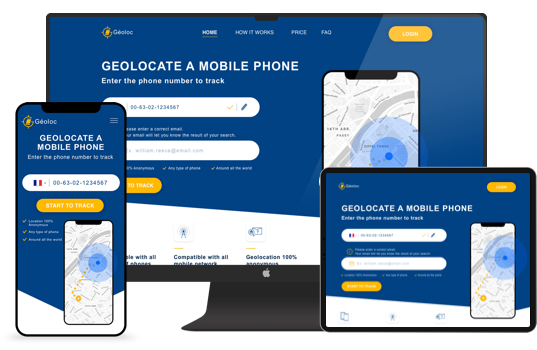 Thanks to Geolive.mobi, you can geolocate any type of phone quickly, anywhere in the world.
Get the exact coordinates of the phone you want to locate
Track the different geolocations on a map with geolocation history.
Track any type of phone, anywhere in the world.
100% anonymous: we will not share your personal information
Geolocation works for all brands and all phone networks